Caring for your dog after neutering is a part of the entire process and it will be slow but also require some tools. Some of them are more vital than others but a lot can prove quite useful for some dogs and their owners.
Not all tools serve the same purpose and some can be more important than you might think. Your vet will have a few ideas and tips for you as well, but some tools are obvious enough. It will also depend on your dog and on exactly what the surgery will entail.
This little doggy jumpsuit is perfect to have your dog wear immediately after neutering. It has a row of buttons on the back to snap in place and hold secure throughout the recovery period. You can cut a part of it so your dog can go potty. But you can also leave it as is and just remove it when necessary.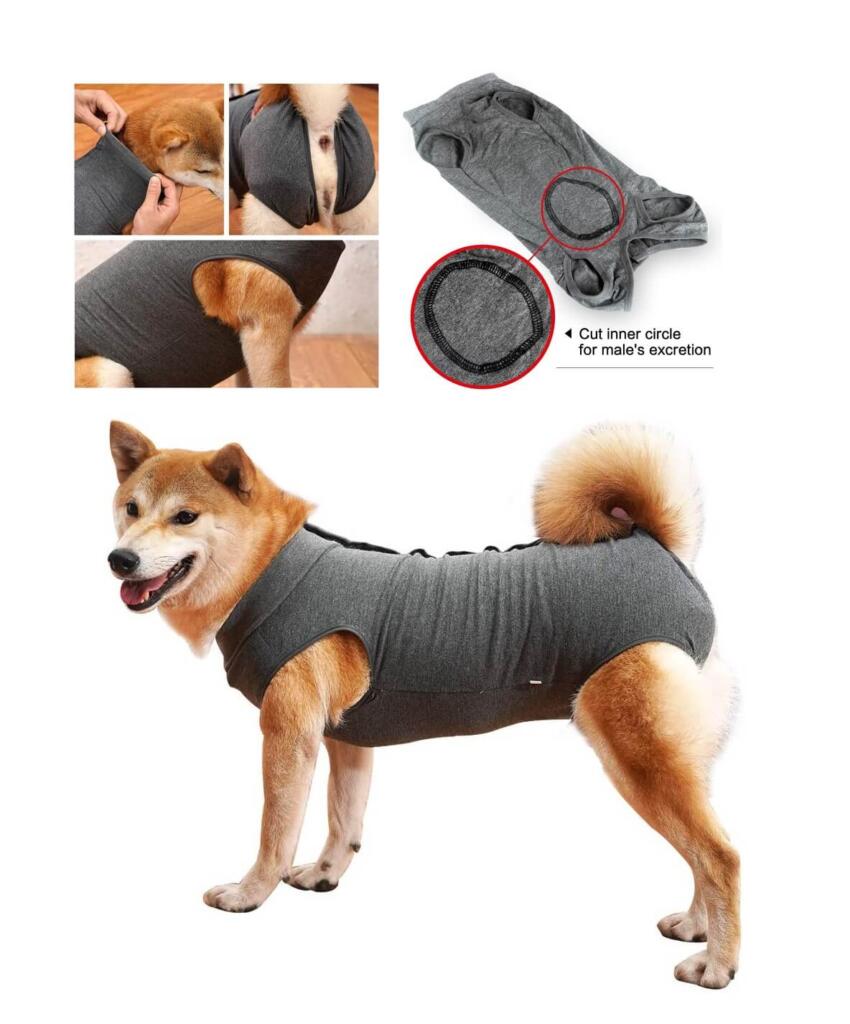 The material is elastic to accommodate your dog comfortably. There are multiple sizes as there is no one size fits all and you should measure your dog. A suit like this is perfect to protect your dog's stitches as it keeps it away from licking or scratching. Veterinary practices may also offer this type of jumpsuit but if ever you need a spare it's available.
The classic cone is the tool that most people think about when trying to protect pets after surgery. It will require you to measure your dog's neck to get the right size. The material used is PCV which makes it very light and will not pull their head down.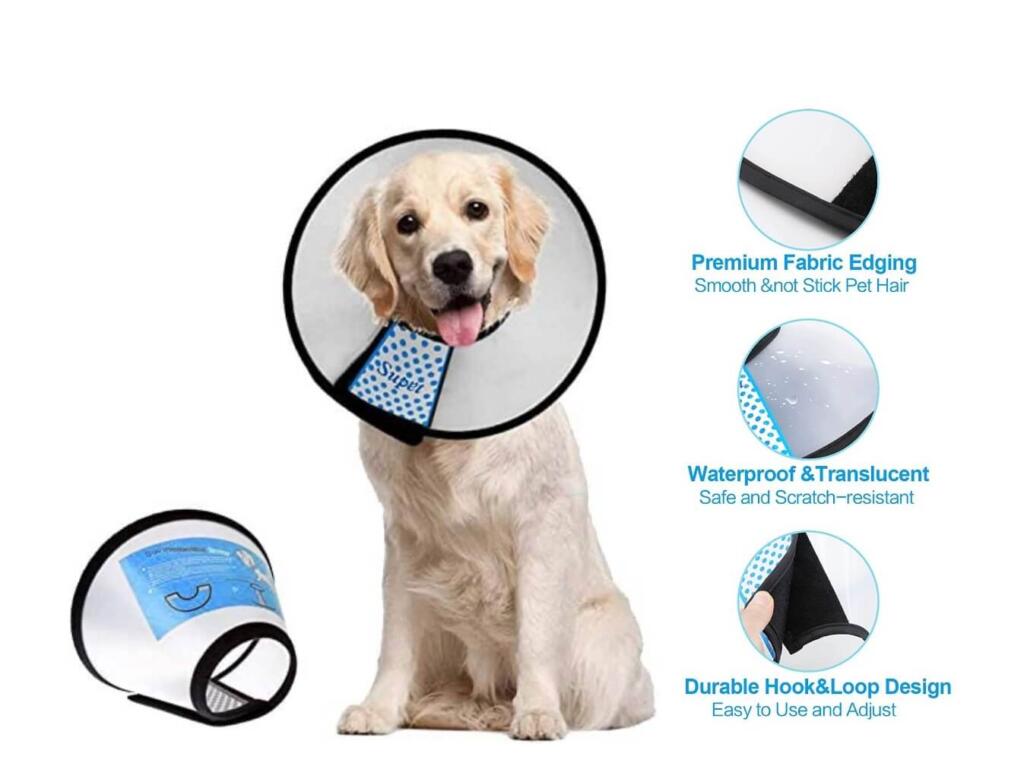 The padded edges will offer comfort and not https://amzn.to/3y3DuwIchafe or catch the fur. A cone is particularly useful at night as the dog would not be able to reach the wound and affect it. Make sure to measure how far you want the cone to be as your dog may still reach the wound. A cone can be used in combination with a jumpsuit if you want to make extra sure the wound is protected. 
A replacement for a regular collar, this neck doughnut-looking cone can be better suited for some dogs. Dogs with shorter necks and faces can benefit more from these types of cones. The inflatable inside makes it so that it's malleable and gives way as they move.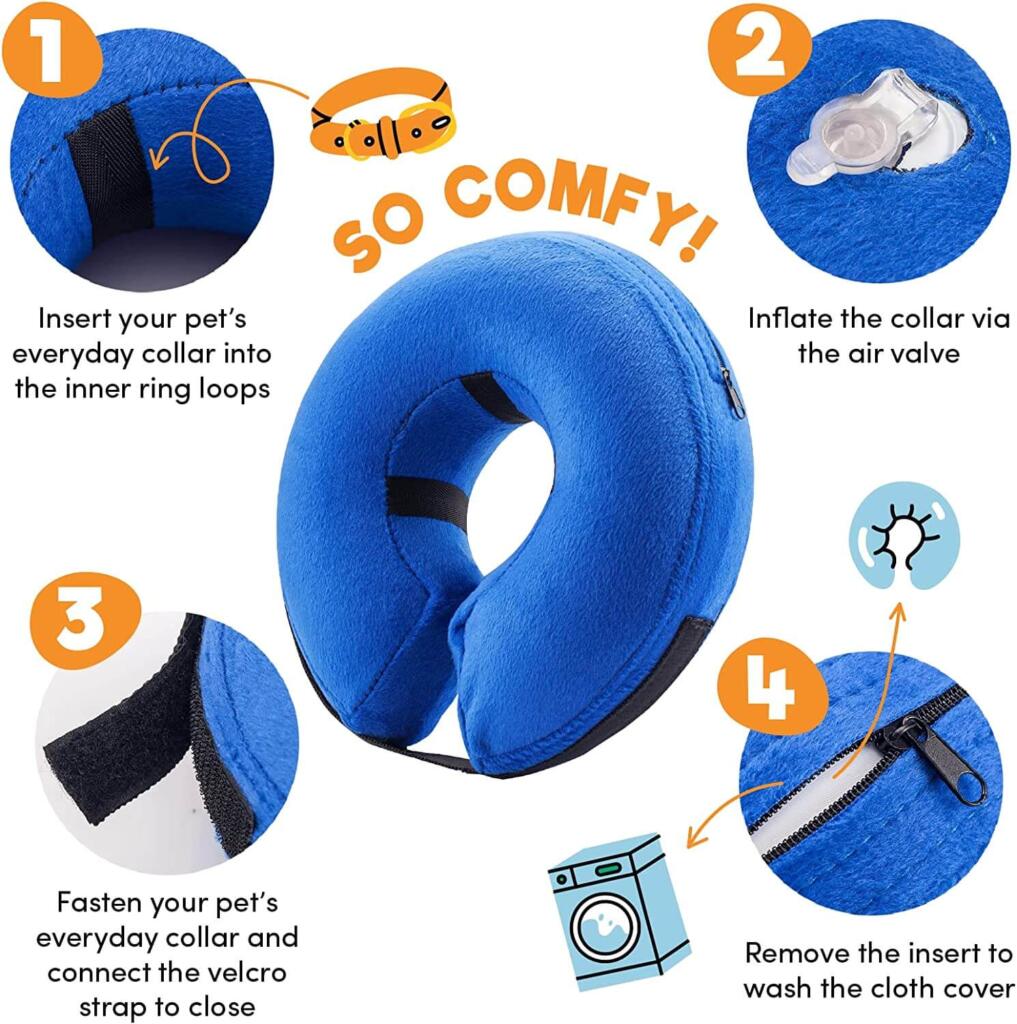 The velcro strap is adjustable and can be made to suit your dog better. Some dogs find it comfier to spend their healing period with a cone shaped like this. It may be comfier for them to sleep and rest in bed while using this cone as a pillow.
Slightly more anxious dogs might need more to lower their need for strenuous activity. Not every dog will feel very poorly after neutering and will want to immediately start playing and jumping around. A puppy pen should help contain that little bundle of energy.
A foldable pen like this is nice to have for training as you can put it away when you don't need it anymore. A puppy pen like this is also perfect to keep your dog from jumping on the bed while they are healing.
In conclusion
Care after neutering is an important part of your dog's recovery and for some of that time, some tools might come in handy. Whether you need to protect the wound with a cone of shame or keep them from jumping, there are solutions. It's not going to be an easy journey to heal but it's easier than you may think especially with help.