The time a puppy will go through the process of teething is a hard one, due to pain and discomfort so dog teething toys can help. You can pick quite a few toys to help your dogs, most of which will depend on some factors.
For one, your dog's preferences will come into play. If they don't like a particular one you might not be able to convince them. This can be something about the taste or texture of a certain toy. You might need to try a few before committing and see what sticks and what helps.
This brand is very widespread in the industry of dog chew toys and hence makes dog teething toys as well. Made with a soft enough material that your pup can easily gnaw into, but is durable enough to last. The two chews come with alternating firmness so that a young puppy can start with a softer chew.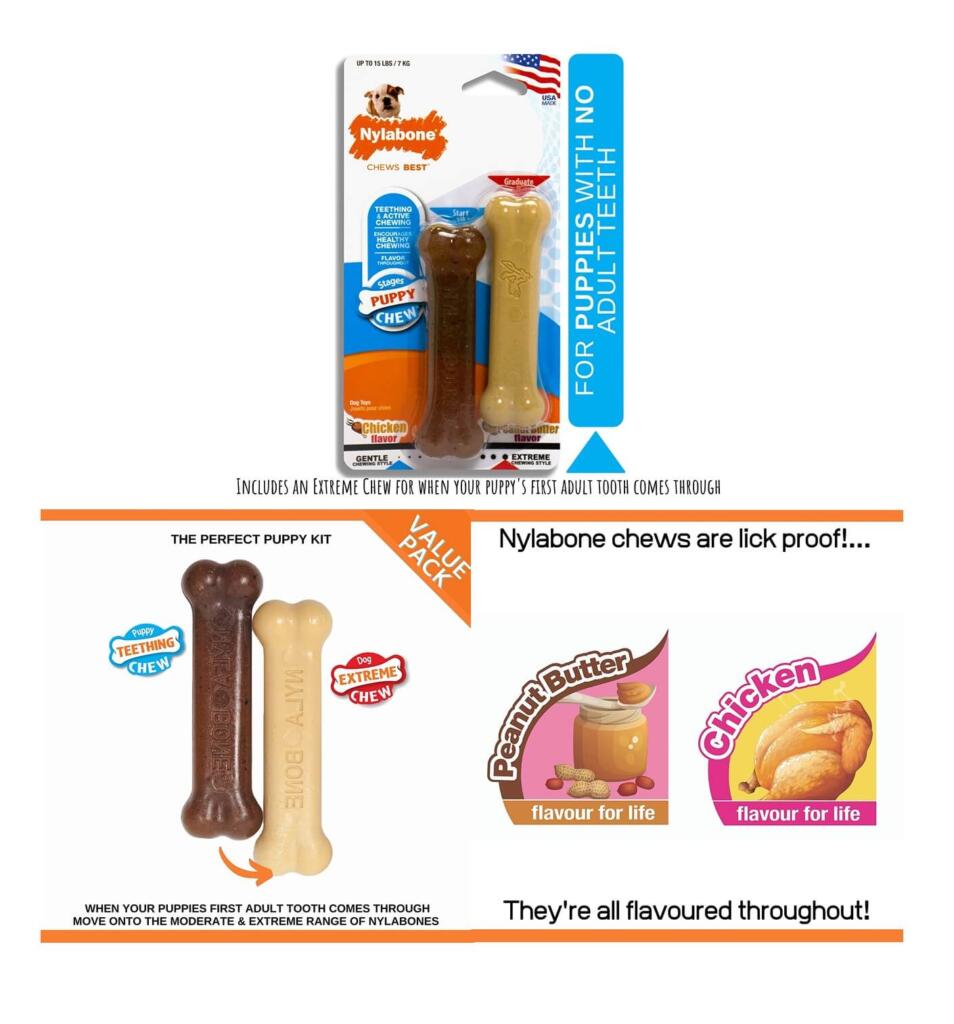 The second firmer chew is perfect to move https://amzn.to/41Zx1QXon to later on in the teething process. Both have a flavour to better encourage chewing and thus keep them from chewing at something else around the house. This particular chewing kit is aimed at puppies. You might need to hold it to their jaw to teach them that it's a chew toy. 
This set of dog teething toys is a little different as they incorporate rope and rubber parts. Different shapes paired with a squeaky piece make these perfect for teething, training and playtime. The textured surface of the rubber parts and the different textures of the rope, make it perfect for tooth health.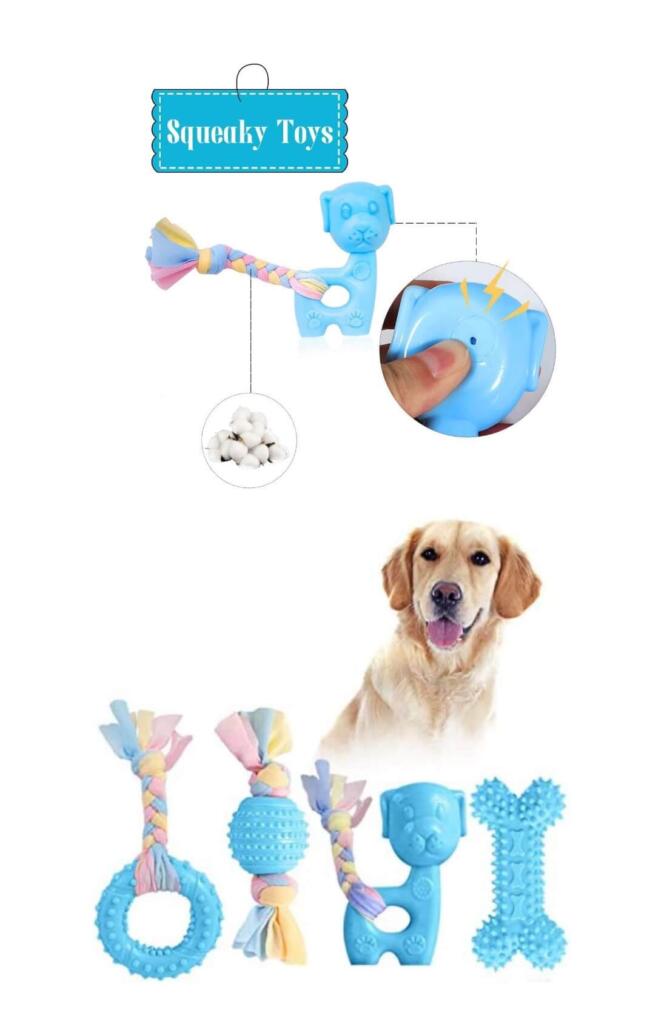 A nice diverse set of chewing toys that will help your pup go through the periods of teething. It can help keep your dog distracted and entertained, especially when they have tooth pain.
A fun little toy for your dog to chew on while they are in their teething period made to look like keys. With a little flavour soaked all the way through so that it encourages licking and chewing. It's soft but sturdy and it's made out of non-toxic materials to be safe for your pup.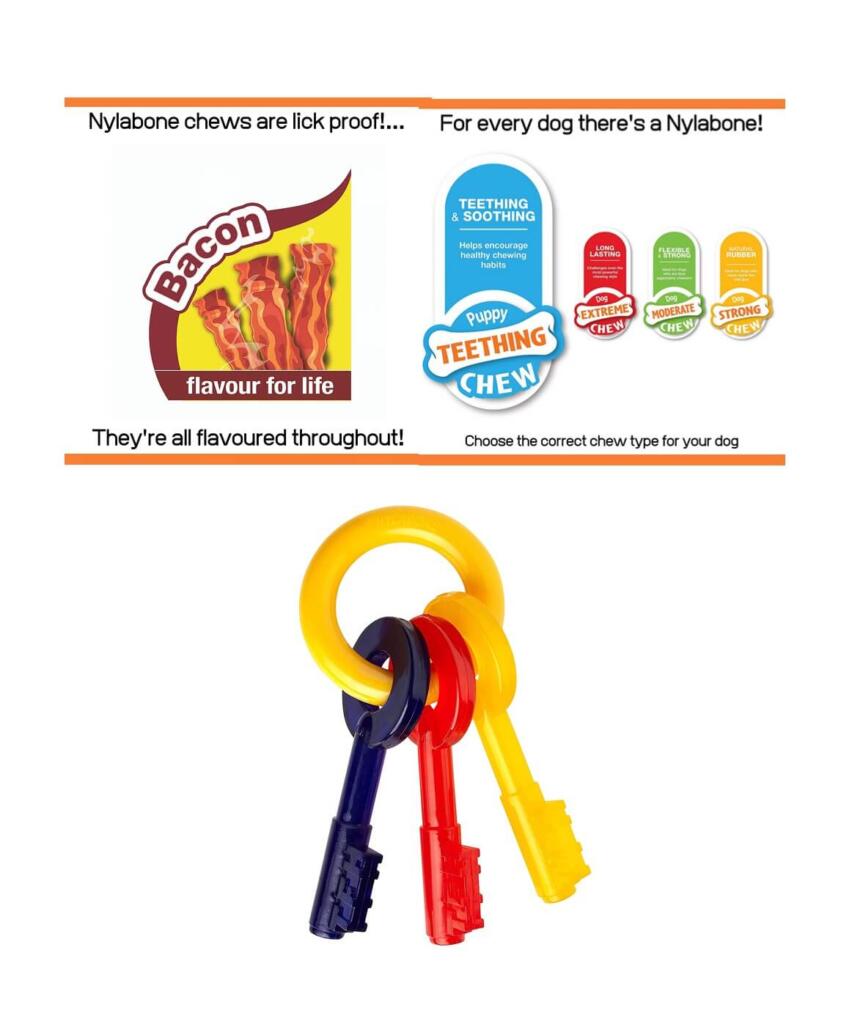 So grab a pair of chewable keys to help soothe your puppy's gums as they are flaring up. Keeps your dog occupied and away from destructive chewing of anything around the house. In typical fashion for this particular brand, the separate chew toys have a different firmness for each stage of the teething period.
This does not go on the list of dog teething toys per se but it is a very useful teething product. You might find yourself feeling very sorry for your puppy's pain, and this gel could help a great deal. It contains chamomile and peppermint that help ease the pain for them. Applying this gel can also come in handy for training your puppy to have its teeth brushed later on.

Of course, it being a medicinal product you might want to ask your vet about it. Most concerns bout teething have to do with pain so a better solution may be discovered with the vet's help.
In conclusion
Find the perfect dog teething toys or soothing products to help your puppy deal with this pain. They might love a random chew toy that you picked up on a whim or you might find yourself trying a whole score of them. Either way, the right chew toy will help them and you keep the pain manageable. After a few months, this whole ordeal will be over and your pup can still make use of those chew toys to ease of boredom.