Most book lovers would like to have a private library but that's not always possible due to space or budget but a smaller bookshelf can work. Either as a backdrop to get you in the mood for reading or as an interior design choice, a library is what we aspire to.
Complete with all the nick-nacks and decorative plants or story-inspired decorations, everyone's ideal library looks different. It's something that can be relevant for you and your personality.
Looking for the perfect bookshelf will bring up all manner of different designs so pick wisely.
This is a reasonably-sized bookshelf that can hold a good amount of books. It's also quite a budget-friendly option that offers extra space on top as well. If installed with 3 horizontal shelves on the floor, you have all that extra space above. A couple of book ends will hold another row of books.
You might be limited when it comes to a variety of colours as they seem to only come in white, and wood colour. The shapes it comes in, also vary and you have the boxy design but also a taller S-shaped version. It adds some character to a space but it might not fit every household, so the smaller version can work better.
A larger bookshelf for you if you need more space and have the budget for it. The steel material used offers a nice sturdy shelving unit, especially if you have enough books to fill it all. It can hold up to 10 kg for each tier, so you're set on that front.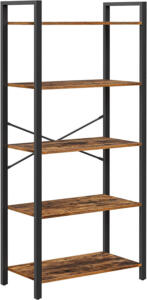 I will say that this one is more popular for kitchen storage. But it has come to the attention of book lovers because of the amount of space. It's a rustic-looking bookshelf so you can pair it well with a room that matches this aesthetic, or as an accent piece.
This one is very similar to the other shelf mentioned but has a rather distinctive design. The sides resemble a ladder and that can be an interesting design choice, especially if you pair it with some climbing plants. Along with this, you have the same sturdy steel structure with loads of space and durability for your books.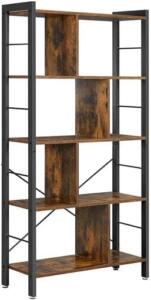 Simplistic, modest yet rustic in aesthetic, this shelf can match nicely with other pieces of furniture. The fact that it's easy to put together makes it even better if you have to do it on your own.
The most budget-friendly bookcase I could find has these 4 shelves which might not be enough for many avid readers. But you can use it to make a little reading nook that is within a smaller budget and for a smaller room. You can also have it as a modular bookshelf if you get another unit like this you can combine the two.

The two options in colour cover white and a muted beige that looks more wooden. A wooden colour might go well with earthier tones in your room while white is a more non-descript colour choice.
Conclusions
Many avid book readers want that backdrop of bookshelves to have the feeling of being in a library. Even if not many of us can sacrifice storage space in the whole house just for books, we can still have a little book nook space.