The sofa gets a lot of use and it's challenging to clean it, but can you use a steam cleaner for sofa and make life easier? Crumbs easily end up somewhere on the sofa, but even if these are easy to clean, stains are not.
Coffee and wine are hard to take out, so you need something more powerful but also not damage the couch. The struggle to keep upholstery clean goes out the window even more when pets are involved.
How to clean a sofa?
It's not really a straight answer for how to clean a couch, because, in all honesty, it depends. The colour, the types of stains, and even the fabric, all can factor into the cleaning process.
A method to clean leather sofa would be different from a cloth one.
A few general things can be done to clean and maintain a sofa.
Now we know you can't shove your sofa in a washing machine to make it new. But you can still clean it with other tools.
Vacuuming the sofa regularly is an easy, low-effort maintenance task. If the cushions and pillows are removable then it's perfectly easy to reach a vacuum nozzle to pick up residue.
Some of the pillows or even seat cushions, might have removable covers and those can go in the washing machine.
The upholstery on the rest of the sofa is another thing. For these use a brush to lift any dust, or dirt before you start thinking of more heavy-duty cleaning.
Can you use a steam cleaner for sofa?
Usually, it's recommended to dry clean a sofa as per manufacturers' guidance, but sometimes a brush will not be enough. Stains or wear over the years make it difficult for anyone to clean a sofa thoroughly.
In most cases, water is still an ingredient required to clean more stubborn messes. Thus some water with mild soap can be used with a wipe to go over the entire surface and clean the fabric.
A steam cleaner for sofa cleaning might be your best bet to freshen it up and remove certain unwanted odours. Steam cleaning your sofa can even kill germs and have disinfecting properties.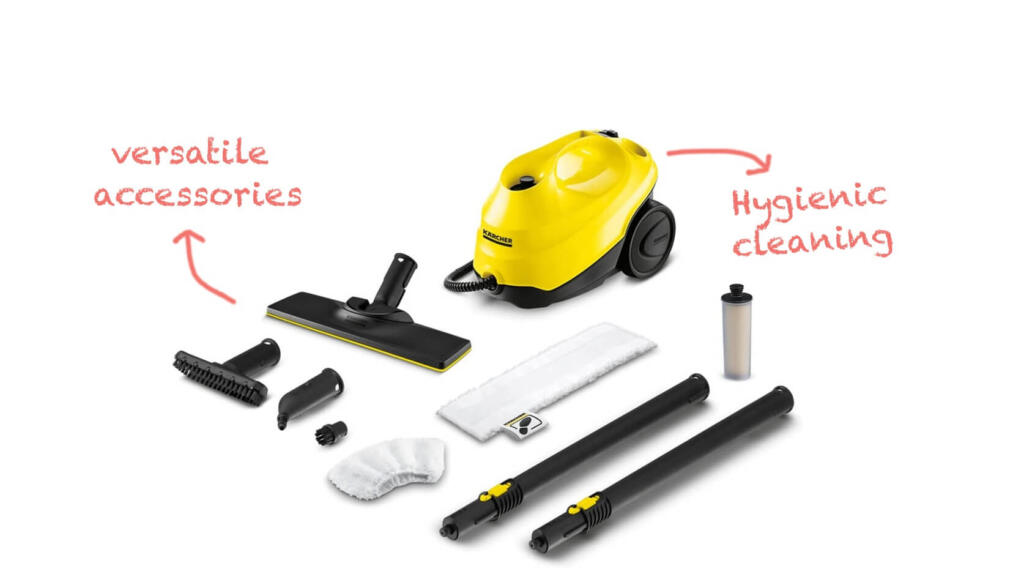 Steam cleaning upholstery however will not fair too great against stains. For that more vigorous cleaning methods must be used.
It can help, but just steam cleaning alone might not be enough.
Spot cleaning on localized stains
We mentioned using water with some mild soap, which is great if you just want to give the sofa a rundown. This method will not clean spots and stains, it's more of a general wipe clean to cover the whole sofa.
Fresh spillage of coffee or wine is easier to clean if you act quickly. Soak up the liquid with a paper towel or cloth, as soon as you can.
Don't rub as you do this, just dab it and absorb the liquid.
Rubbing will only spread the liquid further and deeper into the couch making it harder or impossible to clean later.
Most stains can be cleaned with water but there are others that are not water soluble.
A universal stain remover is one option for cleaning stains, but you will need some way of rinsing it out.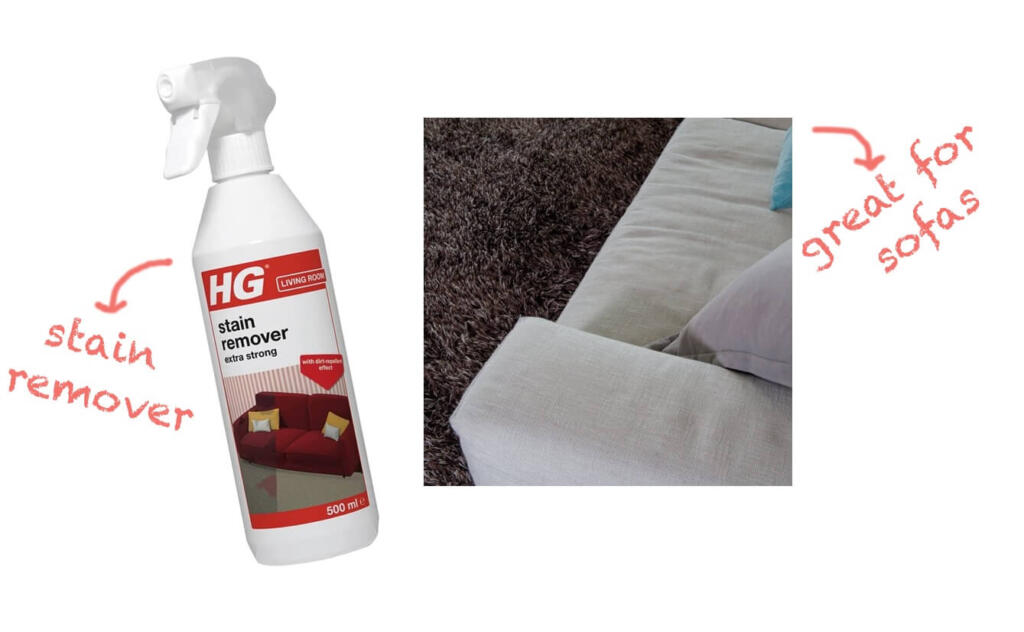 An extraction cleaner can work to rinse away soaked water but not everyone has such a bulky device.
Household cleaning options for couch stains
You don't need to break the bank for a clean sofa. Some items around the house can work nicely at removing stains. These kinds of home remedies are great for those of us that don't want to clean with chemicals.
Liquid soap
Greasy stains can be common and liquid soap is universal to clean upholstery or cloth sofas. Make sure to dilute liquid soap with some water so that it can foam less and rinse faster.
Vinegar
Vinegar works great to clean stains, and it works for sofas as well. To clean a couch with vinegar mix equal part water and vinegar and use it to blot stains.
Lemon juice and salt
Lemon juice works nicely for dried stains and it washes out easily with water. Use some salt with lemon juice to mix into a paste and leave it on the stain for 30 minutes. Wipe away the paste with a clean cloth and spray some water on it to rinse it as thoroughly as possible.
Baking soda
The same method can be applied with a paste mixture of baking soda. One part water and one part baking soda, made into a paste and left on a stain for a while or overnight.
Additional tips
Don't use bleach to take out stains, mainly because the smell won't go away any time soon. It can clean stains but usually, no one has a pure white couch. The stain will be even more evident because of the discolouration that the bleach will leave behind.
If you have a carpet cleaner you can use the suction part of the device to clean a couch.
To sum up
Steam cleaner for sofa can work for superficial stains and to refresh your entire couch but for heavy stains, you'll need more elbow grease.
Some other cleaning methods are required such as vacuuming and cleaning the surface with a cloth. A mixture of water and some household ingredients like lemon juice can also help.