We primarily use dog collars to make sure our dogs have the appropriate dog tag on them while out walking each day. Some do in fact prefer to use a collar for walking and tie the leash directly to it. However many owners prefer to use a harness instead so that there is no injury sustained by pulling on the collar. 
The debate around what to use for walking is one thing, but we still need a collar anyway. It's the best way to ensure your dog has their tag with all the relevant information on it. And dog collars can be quite a fun tool to use for training or as a nice accessory for your dog.
With a rainbow of colours, this collar is a very comfy and useful one. With neoprene padding, your dog will not experience chaffing or discomfort from the material used. Neoprene is great as a material as it dried very quickly and is odour resistant.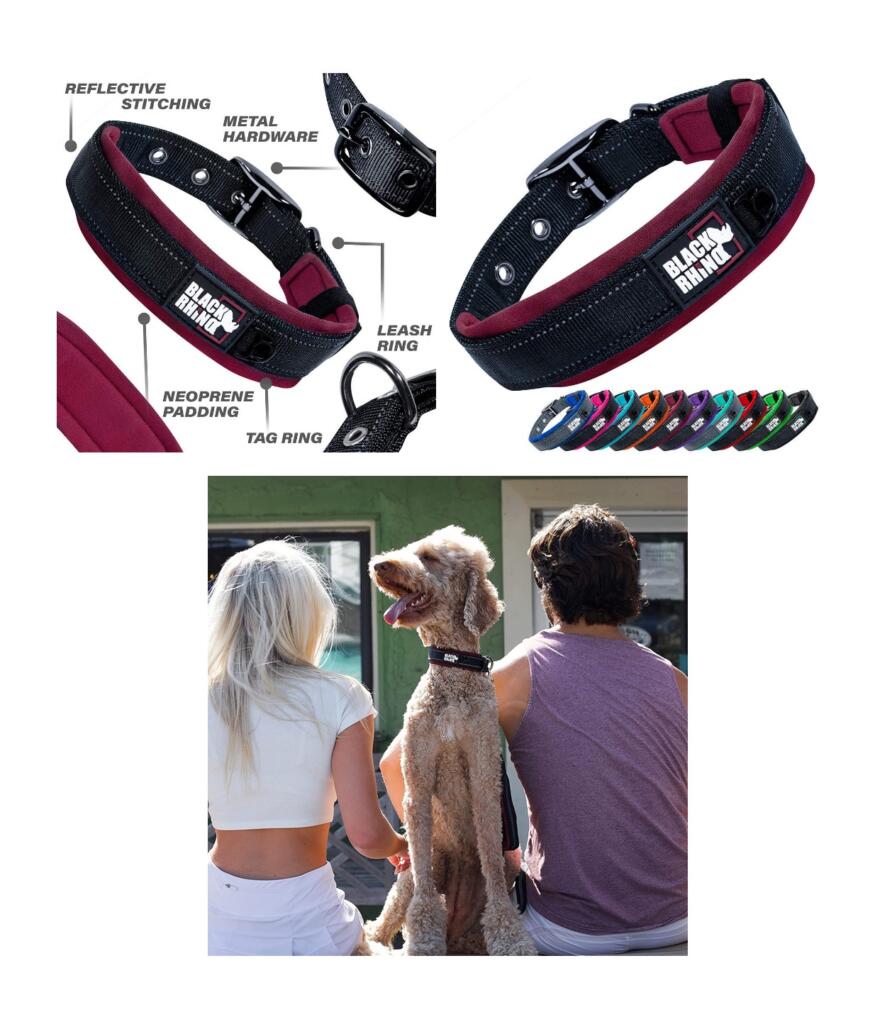 Highly resistant and also lightweight it goes on the list of great dog collars that will prove useful. It can fit any dog breed and it also comes with reflective stitches to offer extra visibility in darker conditions. It has a buckle system to tie it to the dog's neck and offers a more secure fit.
A sturdy collar with a velcro band, which adds an extra layer of security. The buckle that holds it is secured underneath this velcro band, hiding it and securing it. Made with high-quality material that does not irritate the dog's skin or catch the fur.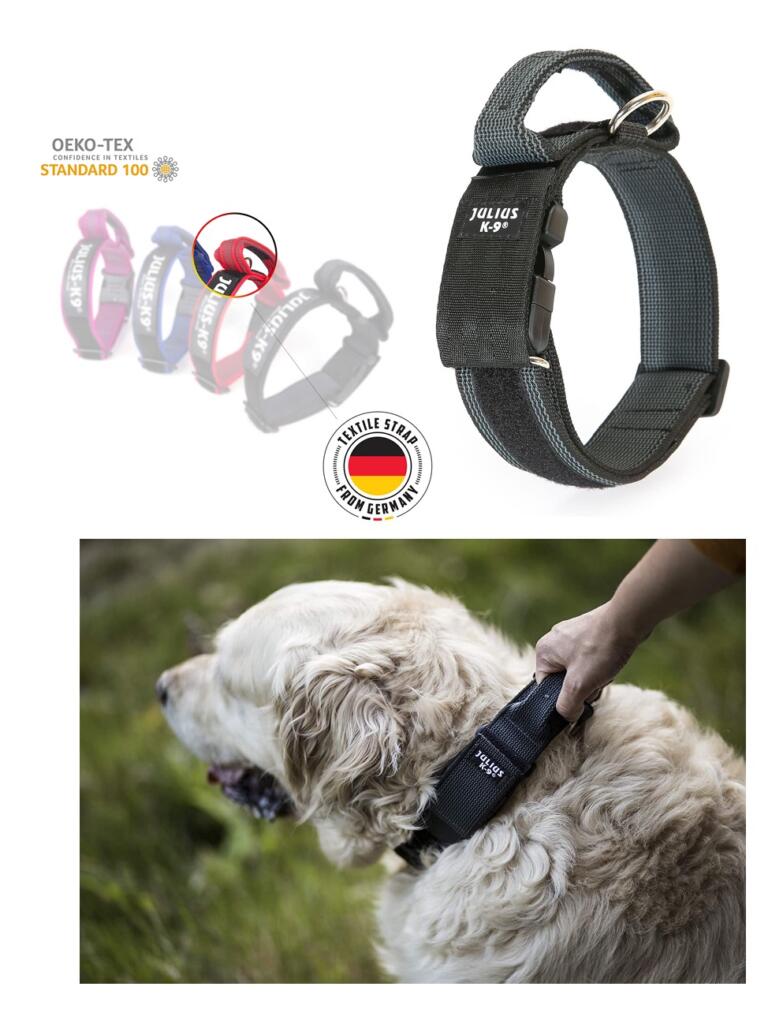 An extra handle to one side makes it easier to grab and hold your pooch to properly affix the leash. This feature, however, is not optional so if you wanted without the handle then it's an option. There is another velcro band on the outside that you can stick other velcro pieces on it, like with your dog's name or decorations.
A simplistic design with a solid colour, this can be among the best dog collars you can get on a budget. With reflective inlays, you can have better visibility in darker weather. With so many colours to choose from it's bound to have something to one's liking.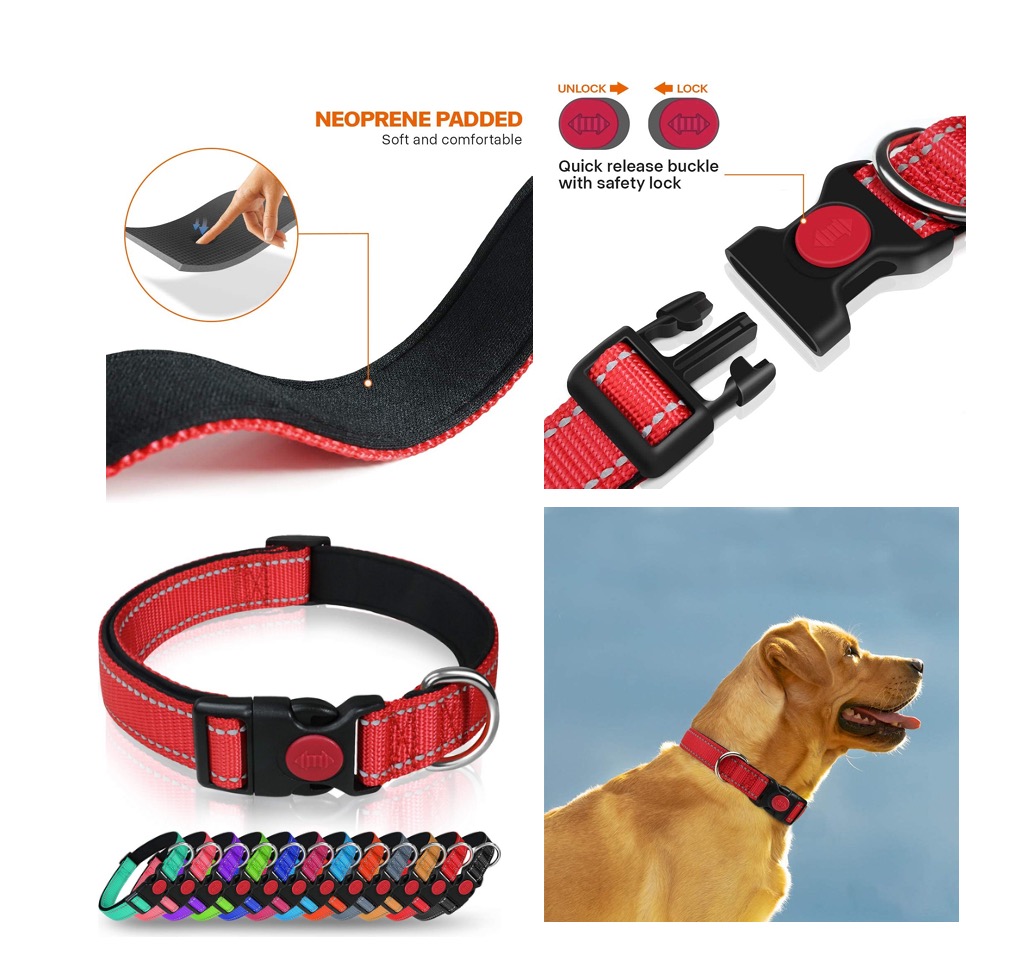 Different lengths sizes and widths sizes are available, to fit multiple breeds in different stages of their development. It's made with nylon so it will last a good long while if you plan on making this the primary collar. It even has a neoprene padded patch inside to proved better comfort to your dog.
This is a very popular brand that makes collars and leashes and for good reason. High-quality materials and expertly woven will guarantee great endurance and a great fit. It's washable and quick drying so no worries on that front.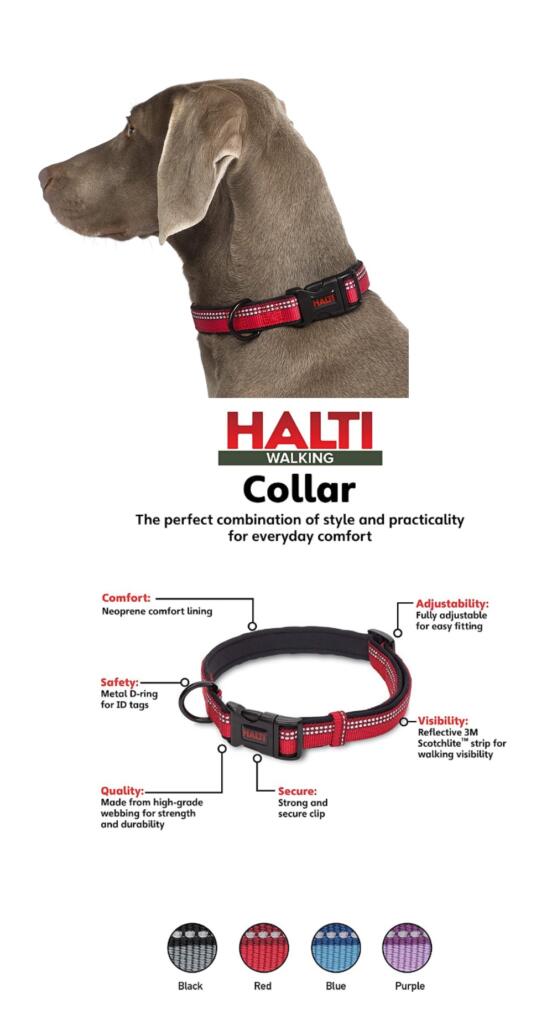 This brand usually offers matching leashes if you plan on matching them together. A metal D ring offers security for your dog's tag while neoprene lining grants comfort. With different colours and sizes available you can take your pick of the lot. It also has reflective stitches as many collars in fact provide, to help with visibility.
Conclusions
Collars are a necessity for many dog owners, for they need a way to secure the dog tag with all the information. Colours and size are the most important aspects to look out for and you are not short of choices. Make sure to measure your dog's neck and use the collar as a training tool so your dog won't be afraid of it when you put it on every day.